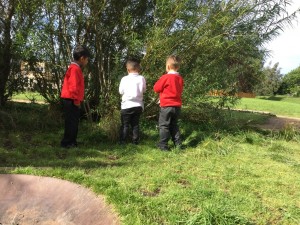 The children in forest school our exploring our woodlands by feeling the different textures of tress in the woodland area.
The children was set a task to work together  using Miss bells nature hut worksheet to explore around the woodland to find three different types of leafs .( Elder , Hazel , Beech)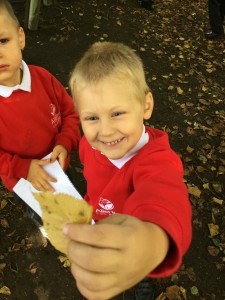 " Look what I have found Miss"
Soma was excited that he was able to find one of the leafs listed on the nature hunt … Well Done
Its SNACK TIME and Miss Martin is preparing to read a story to the children .. " STICK MAN"
After the children listened to the story Miss Martin set them a task to go into the woodland and find a stick of there own … The children took it in turns to stand up and use there imaginations to say what there stick was.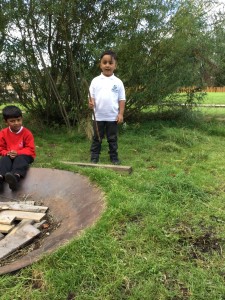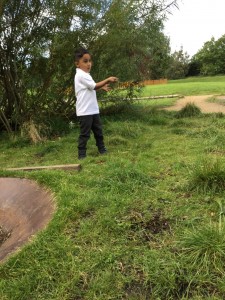 "I am not a stick ….. I'm a witch "
     " I am not a stick ….. I'm a stick man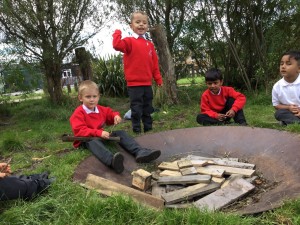 " I'm not a stick….I'm a bunny turn this rabbit flobby "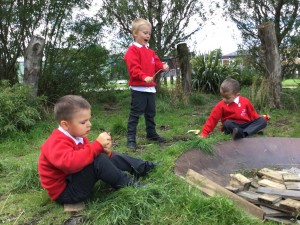 " I'm not a stick …. I'm a Finger"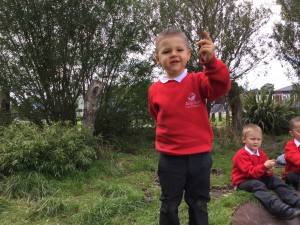 "I'm not a stick ….. I'm my mum"
Well done Reception for using your imagination to turn your stick into something magical